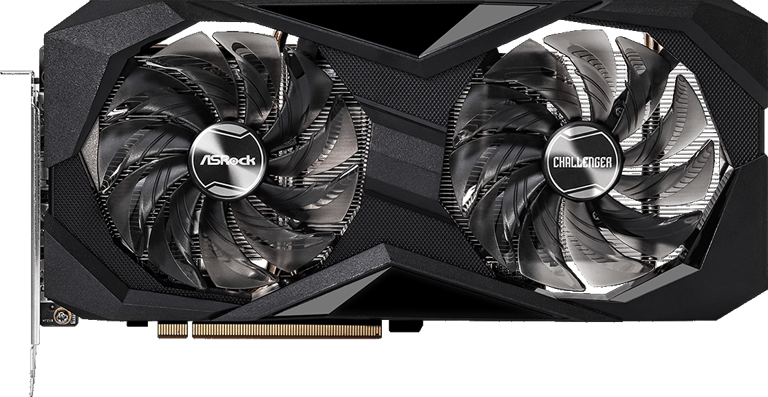 AMD Radeon RX 6600 XT Challenger D 8GB OC
The AMD Radeon RX 6600 XT is engineered to dominate 1080p gaming. This PCIe 4.0 card is powered by AMD RDNA 2 architecture, and incorporates an array of advanced technologies to optimize your gaming experience by sharpening images, reducing input lag, and minimizing frame tear.
This ASRock Challenger D OC model is factory-overclocked to 2382 MHz Game Clock / 2593 MHz Boost Clock (2359 MHz / 2589 MHz for reference card). The card is built with Super Alloy components, and comes with dual efficient and quiet cooling fans with optimized blade design. The fans also stop spinning at idle for zilch-noise computing.
Clock: GPU / Memory
Boost Clock: Up to 2593 MHz / 16 Gbps
Game Clock: Up to 2382 MHz / 16 Gbps
Base Clock: 2000 MHz / 16 Gbps
Key Specification
7nm AMD Radeon RX 6600 XT
8GB GDDR6
AMD RDNA 2 Architecture
DirectX 12 Ultimate
PCI Express 4.0 Support
1 x 8-pin Power Connector
3 x DisplayPort 1.4 with DSC / 1 x HDMI 2.1 VRR
Key Features
Dual Fan Design
Striped Axial Fan
Ultra-fit Heatpipe
Stylish Metal Backplate
0dB Silent Cooling
Super Alloy Graphics Card
Dual Fan Design
Two fans that provide strong cooling performance and make your gaming rig stay cool. It's optimized for delivering excellent gaming experience with stylish and streamlined design.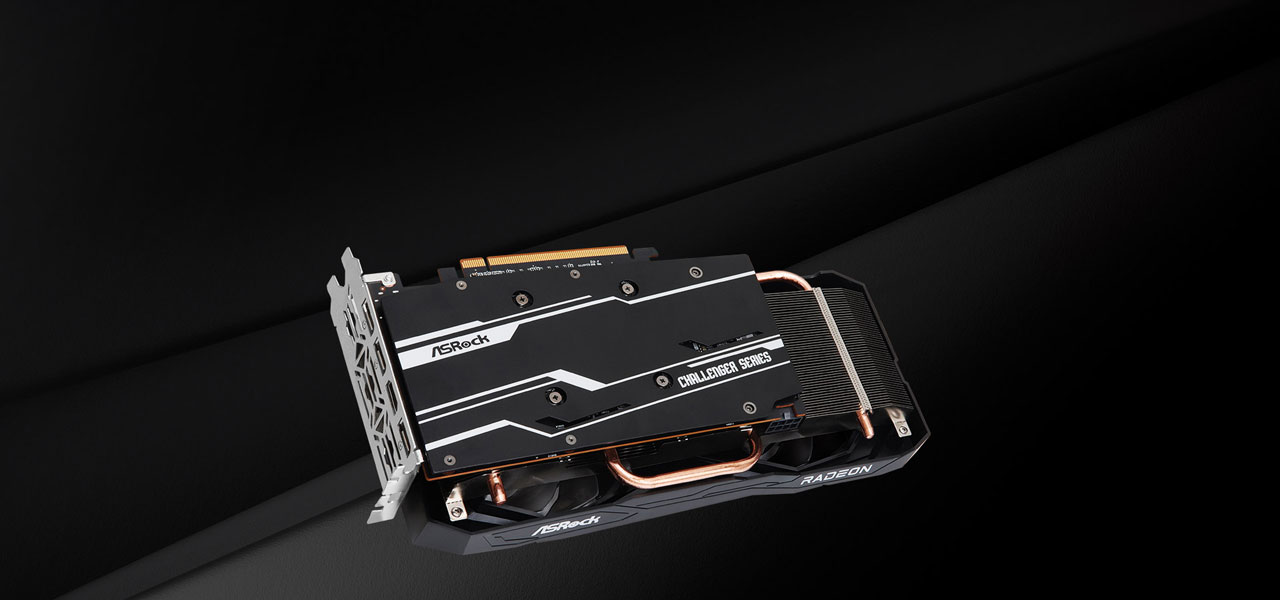 Stylish Metal Backplate
Solid, Fancy, Cool.
Designed to avoid PCB bending. The fancy outlook makes the graphic card more legendary in visual. It also helps to enhance cooling with the premium thermal pads equipped backside.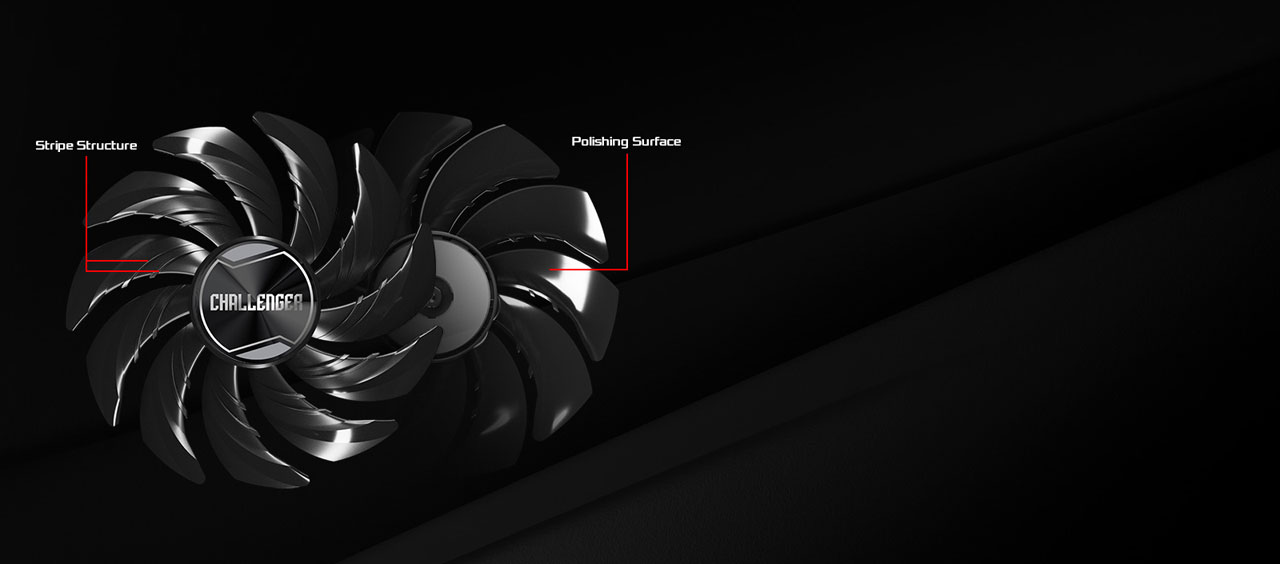 Striped Axial Fan
Designed For Enhanced Airflow.
ASRock's custom Striped Axial Fan delivers enhanced airflow to optimize cooling from not only the stripe structure on each fan blade but also the polishing surface on the bottom side.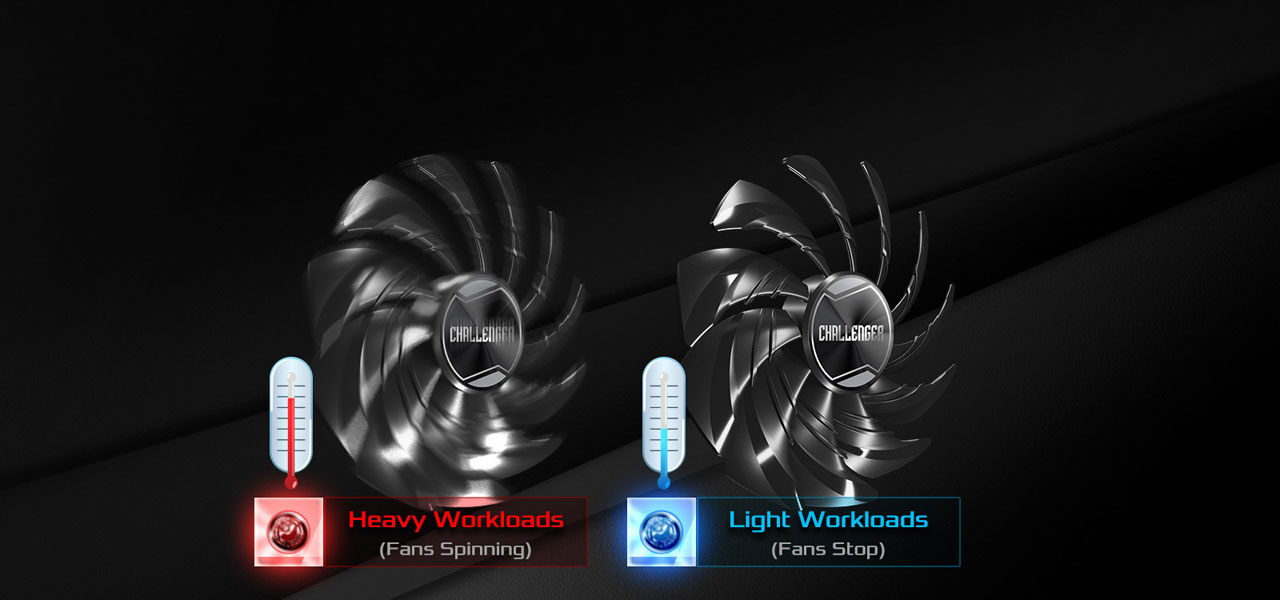 0dB Silent Cooling
Spin For Cooling, Stop For Silence.
The fan spins when the temperature goes high for the optimal cooling, and stops when the temperature goes low for the complete silence.
Ultra-fit Heatpipe
Consolidated to Maximize the Contact.
The heatpipes are consolidated to maximize the contact among each other and also the GPU baseplate for the optimized heat dissipation.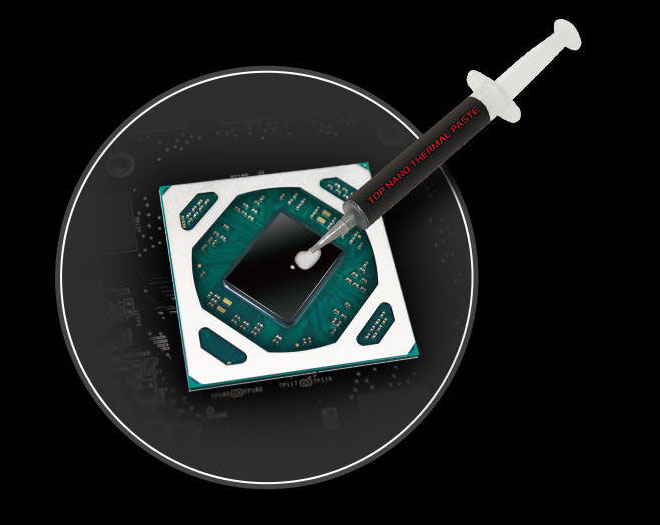 Nano Thermal Paste
Perfect Thermal Teamwork.
Eliminate the gaps in the contact area to maximize heat transfer and thermal efficiency.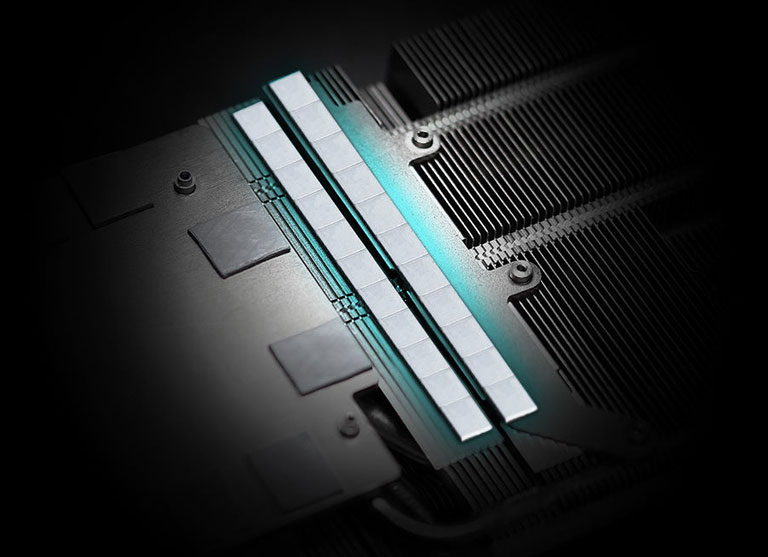 Premium Thermal Pad
Better Heat Transfer.
The premium thermal pad helps to transfer the heat of the components to the heatsink, improving heat dissipation.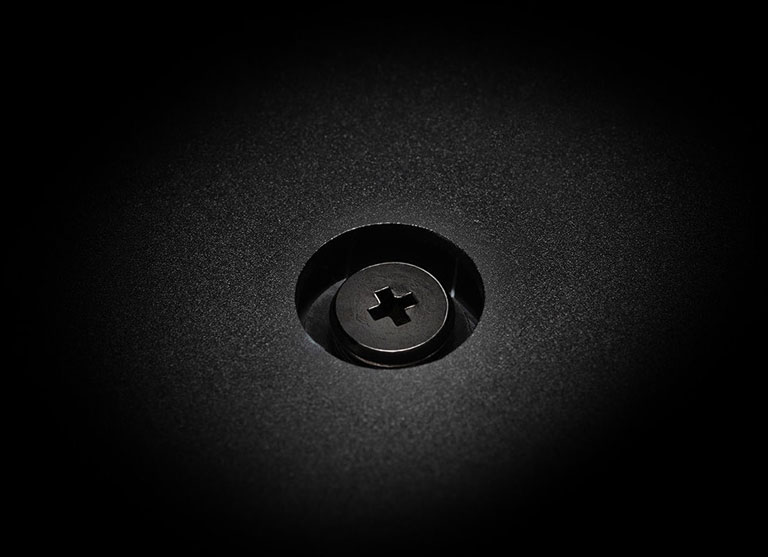 Precise Screw Torque
Optimized Mounting Pressure.
ASRock adopts precise screw torque when assembling its graphics cards to optimize the cooler mounting pressure to improve thermal efficiency while avoiding damage to GPU die.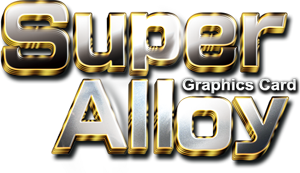 Dr. MOS
Dr.MOS is the integrated power stage solution which is optimized for synchronous buck-set down voltage applications! Intelligently delivering higher current and driving up to 50A continuous current for each phase, thus providing improved thermal result and superior performance.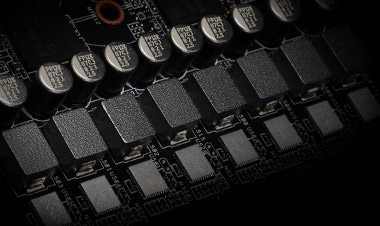 Premium 90A Power Choke
Compared to traditional chokes, ASRock's premium 90A power chokes effectively make the saturation current up to three times better, thus providing enhanced and improved Vcore voltage to the graphics card.
Nichicon 12K Black Caps
Supreme 12K black capacitors with lifespans of at least 12,000 hours. Compared to other counterparts on high-end motherboards that merely have lifespans of around 10,000 hours, ASRock applied Nichicon 12K Black Caps that offer 20% longer lifespans and provide more stability and reliability.
2oz Copper PCB
Using only carefully selected copper materials for PCB layers, 2oz Copper PCB delivers lower temperature and higher energy efficiency for overclocking.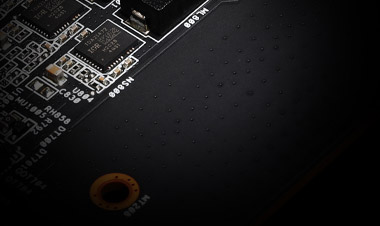 Matte Black PCB
A new mysterious matte black and copper color scheme to match the prestigious components on ASRock's high-end graphics card.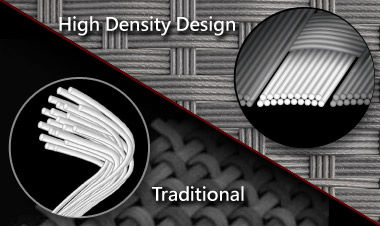 High Density Glass Fabric PCB
High Density Glass Fabric PCB design that reduces the gaps between the PCB layers to protect the graphics card against electrical shorts caused by humidity.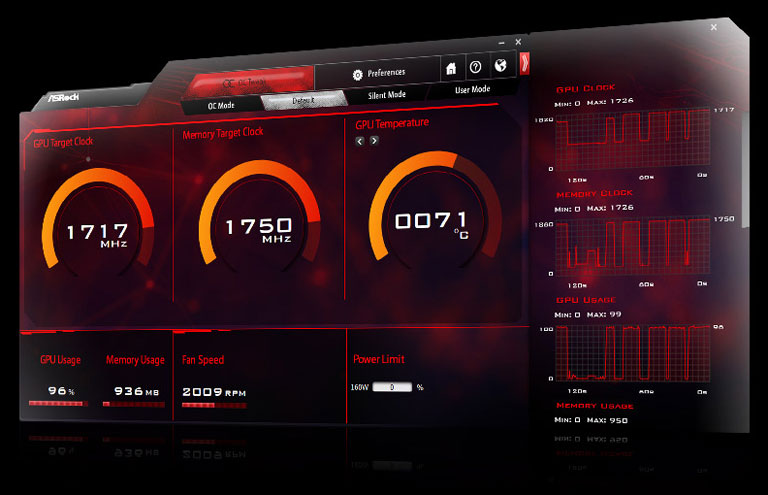 ASRock Tweak 2.0
Pro and Easy-to-Use Tuning Utility.
Provides the smart fan speed control and instant performance tweaking.
Model

| | |
| --- | --- |
| Brand | ASRock |
| Series | Challenger D |
| Model | RX6600XT CLD 8GO |
Interface

| | |
| --- | --- |
| Interface  | PCI Express 4.0 |
Chipset

| | |
| --- | --- |
| Chipset Manufacturer | AMD |
| GPU Series | AMD Radeon RX 6000 Series |
| GPU  | Radeon RX 6600 XT |
| Architechture | RDNA 2 |
| Stream Processors  | 2048 Stream Processors |
Memory

| | |
| --- | --- |
| Memory Size | 8GB |
| Memory Interface  | 128-Bit |
| Memory Type | GDDR6 |
3D API

| | |
| --- | --- |
| DirectX  | DirectX 12 Ultimate |
| OpenGL  | OpenGL 4.6 |
Ports

| | |
| --- | --- |
| Multi-Monitor Support | 4 |
| HDMI  | 1 x HDMI 2.1 VRR |
| DisplayPort  | 3 x DisplayPort 1.4 with DSC |
Details

| | |
| --- | --- |
| Max Resolution | 7680 x 4320 |
| Cooler | Double Fans |
| Recommended PSU Wattage | 500W |
| Power Connector | 1 x 8-pin |
| HDCP Ready  | Yes |
Features
Features
Dual Fan Design

Striped Axial Fan

Ultra-fit Heatpipe

Stylish Metal Backplate

0dB Silent Cooling

Super Alloy Graphics Card
Form Factor & Dimensions

| | |
| --- | --- |
| Max GPU Length | 269 mm |
| Card Dimensions (L x H) | 10.59″ x 5.20″ |
Packaging
Package Contents
Accessories
– 1 x Quick Installation Guide